Yanick Rice Lamb
Yanick Rice Lamb's mission is to give voice to the voiceless and share the gift of knowledge through the written word. An award-winning journalist and author, Yanick shares her expertise at Howard University, where she is a professor and former chair of the Department of Media, Journalism and Film. She teaches multimedia reporting, interactive editing and magazine writing. She is also adviser to 101 Magazine and the Howard University News Service. Her research focuses on environmental health as well as the impact of social media and technology, media management and diversity. It has been featured in publications such as the Journal of Magazine and New Media Research and Asia-Pacific Media Educator.
In addition to teaching, Yanick is a media consultant and co-founder of FierceforBlackWomen.com. Her work has also appeared in The New York Times Magazine, Essence, Parenting, Ebony, The History Channel Magazine, TheRoot.com, BlackAmericaWeb.com and thegrio.com.
Through an Association of Health Care Journalists fellowship, she spent a year investigating long-term care of the uninsured for the article "Stuck in the Hospital." She also wrote "Dealing With Dementia" as a John A. Hartford/MetLife Foundation Journalism in Aging & Health Fellow. Her roles with Heart & Soul magazine have included editor-in-chief, editorial director, associate publisher and vice president under three owners. As founding editor of BET Weekend, her editorial vision led to the magazine becoming the second-largest publication for African Americans. Under her leadership, the magazine's circulation increased nearly 40 percent, from 800,000 to 1.3 million in three years.
She spent a decade at the New York Times as assistant style editor, deputy home and living editor, assistant editor of Connecticut Weekly, metropolitan copy editor and layout editor on the news desk. She was also senior editor at Child magazine, copy editor at The Atlanta Journal-Constitution, reporter at The Toledo Blade, editor-at-large at Essence magazine and contributing editor for Emerge. Her clients at Miyan Communications Group have included The Magazine Group, BET, Essence, Heart & Soul, Afro-American Newspapers, the Fort Greene News, and authors Cheryl Martin and the late Ron Walters.
Yanick and her staffs have won awards from the Society of Professional Journalists, a Folio: Editorial Excellence Award, several Unity Awards and five Salute to Excellence Awards from the National Association of Black Journalists. She also received an Industry Research Award from the Association for Education in Journalism and Mass Communications, a McDonald's Black History Maker of Today Award in Journalism, and various awards for leadership and service. She was also named a History Maker in education.
Yanick is co-author of Born to Win: The Authorized Biography of Althea Gibson, Rise & Fly: Tall Tales and Mostly True Rules of Bid Whist and The Spirit of African Design. She is a contributor to BET on Black: African-American Women Celebrate Fatherhood in the Age of Barack Obama, Fight the Power! The Spike Lee Reader, Haternation, Social Media: Pedagogy and Practice, Aunties: 35 Writers Celebrate Their Other Mother and Health & Healing for African-Americans. She is completing her debut novel, Nursing Wounds. A native of Akron, Ohio, Yanick holds a bachelor's in journalism from Ohio State University and an MBA from Howard University, specializing in media management and marketing. She is completing a doctorate in medical sociology to complement her work in health and science journalism.
Twitter: @yrlamb | [email protected]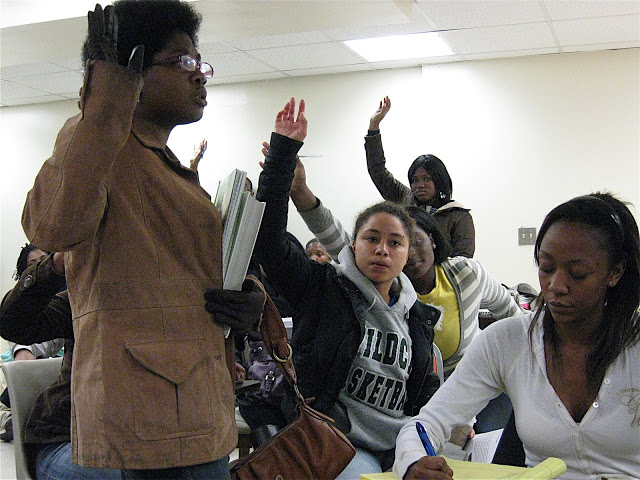 Research/Creative Activities
6-Year Cumulative Evaluation
"She was really the angel in my life in college who shepherded me through to start my career."
— Responding to Elaine Fluker's interview question on who she would thank in life besides her mother (December 2016)
Charreah K. Jackson
Yanick Rice Lamb is the kind of professor that students benefit from. Her experience in journalism and her concern for her students' progress is unparalleled. I first had the pleasure of meeting Prof. Lamb in 2007, two yeas before I had even enrolled in one of her classes. She was the gentle journalism giant that I knew I wanted to become. Prof. Lamb, however, taught me to be better. She taught me how to attack stories without compromising my personality and integrity — advice that I have taped to my computer screen at work. I would not be the journalist I am today if Prof. Lamb did not mentor me. She is an invaluable part of the department and I am certain that other students will benefit from her passion.
Jamisha Purdy-Ford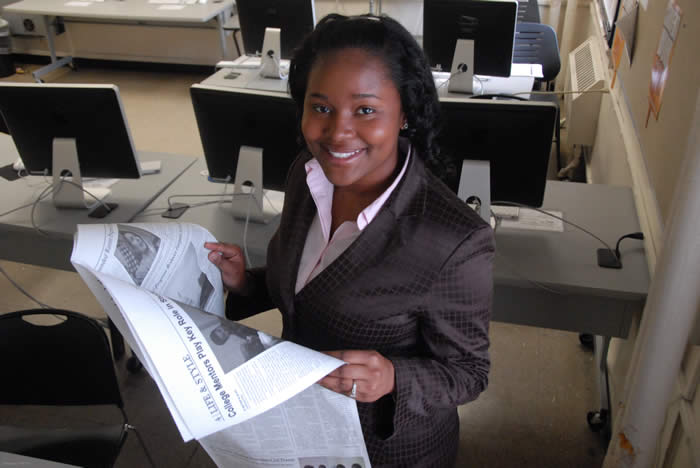 Jamisha Purdy-Ford
NABJ Student of the Year
As lead reporter on Howard's election team, Jamisha filed her Barack Obama story ahead of many news outlets.
Who is/was your most significant mentor and why?
This is hard since I have had so many great women guide me. I will narrow to two. Yanick Rice Lamb, my professor at Howard University who was fundamental in my start, opened so many doors and helped me land my first internship at Upscale magazine my freshman year.
Is It Always Better to Give Than Receive?
Simply put, Hell Yeah! On Thursday, I went to submit an application for a Hearst Award (one of journalism's high awards for students) to my mentor and favorite professor, Yanick Rice Lamb. I had completely forgotten about the contest until she emailed me and the rest of the Hilltop staff about it. So I take my application and her desk is a lot more busier than usual. I get my last signature from Dixon (chair of the program) and am about to tell her have a nice weekend, when I remember the papers on her desk. So I ask, "Need any help?" She thinks. She thinks. She says, "Yeah, can you copy this?" It's her application for an awesome fellowship for her and two other journalists to research and report on some of the effects Hurricane Katrina had. So I make the copies and go back to her desk. She has a huge stack of papers, 5 copies of resumes, lengthy clips (including one that is 16 pages long) and other things needed for the application packet. So I spend the next hour sorting the papers, making a few more copies and even watering her plants. It's weird a person who does sooo much for other people. She really had to think of what I could do to help her, since she is so used to doing things for herself. So once we got the copies sorted and got my application squared away, she says, "Thanks!" And I don't even feel right saying, "You're welcome." Because I only gave a down payment on the countless reference letters she has given me, support and advice she has made the time to give to me and other priceless moments where she has inspired and encouraged me. This former editor of Heart & Soul, BET Weekend and Child magazines, current editorial director of H&S, author and superwoman is my inspiration and gave the living spark I needed to think I too could make it in magazines. So it definitely felt good to give to someone that I have received so much from! To all the Professor Lambs who give tirelessly and seek no shine.
Charreah Jackson
I am a PROUD graduate of Howard's School of Communications (BA, Public Relations, 1986) and had the pleasure of knowing Yanick Rice Lamb personally and working with her in a variety of ways for more than 20 years. When I met her in 1989, she was writing for the New York Times and I was working as a PR professional in New York City. Little did I know then that she and I would remain great friends and colleagues for so many fruitful years. I have observed Yanick over the past two decades and have marveled at how gracefully she's conducted herself at every stop along her journey, including her time at Howard. As an alum of the SOC, I have always appreciated the fact that our school had such well-known and nationally recognized professionals as Yanick on its faculty. She brings the weight of broad industry respect and a true passion for journalism that can only benefit the students, the school and the University. I can think of no finer and more deserving person than Yanick. I just wish could have been there when I was a student.
Christopher Cathcart
"Such a wonderful inspiration to all of her students."
— Chablis Jenkins
"Yanick Rice Lamb has been one of my biggest role models. She was a hands-on advisor at the

#

Hilltop

and just an inspiration to be around.

#

TodaysBlackHistory

"
— Corey M. Cunningham
"Prof. Lamb takes an interest in each and every one of her students and steers them toward their goals. People should know this."
— Christopher Windham