Publication No. 12
Creative Work/Article
Lamb, Y.R. (Jan. 31, 2017). "I Am Not Your Negro" Shows James Baldwin as a "Witness" Then and Now." USA Todaynewspaper and USA TODAY's Black History Month Special Edition: History Comes Home.https://www.usatoday.com/story/life/nation-now/2017/01/31/baldwin-witness-now/97285092/
Synopsis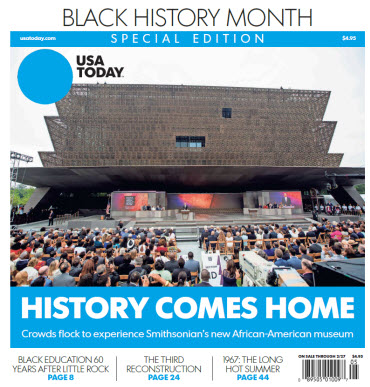 USA Today invited me to write two articles for a Black History Month Special Edition circulated internationally: http://onlinestore.usatoday.com/black-history-month-2017-p18570.aspx
The articles also ran in the regular newspaper. This one dealt with how Haitian filmmaker Raoul Peck captured the timeless wisdom and creativity of acclaimed author and activist James Baldwin in the book and film, I Am Not Your Negro.
Impact
I Am Not Your Negrowas nominated for an Academy Award as the 2016 Best Documentary Feature and won several awards at film festivals internationally. It is based in part on 30 pages that Baldwin's sister, Gloria Karefa-Smart, handed to Peck from an unfinished Baldwin manuscript called Remember This House. Baldwin had planned to examine the lives of his friends Medgar Evers, Malcolm X and Martin Luther King Jr., civil rights figures all assassinated within a five-year span from 1963 to 1968.
Some say Baldwin was prescient in dissecting the "Negro problem in America" and making it relevant for today. But Peck says it was more that Baldwin was well-read, had a sharp mind and got straight to the point with his own timeless messages. "He goes to the fundamentals, and fundamentals are always true," Peck said.
This publication meets criteria No. 10 set forth on page 10 in Appendix A of Recommendation 305-2015 as an Exemplary Creative/Professional Activity:
Criteria No. 10. Authorship of works such asarticles, reviews, commentaries, multimedia, and/or other creative projects published or broadcast locally, nationally or internationally in newspapers, magazines, popular or industry-specific media (e.g., PR Tactics, JAE, Folio, AJR, CJR etc.) or on the Internet if they demonstrate high standards in the practice of the discipline.