Publication No. 19
Invited Book Chapter
Title: BET on Black: African-American Women Celebrate Fatherhood in the Age of Barack Obama, edited by Kenrya Rankin Naasel, Contributed "Daddy, My Brother Barack and Me." (Memphis: Kifani Press, October 2013).
Author(s) Lamb, Yanick Rice
Published by Kifani Press
Role
I was one of nearly two dozen women invited to submit a chapter about their fathers, brothers, sons and mates to highlight the contributions of black men in our lives.
Synopsis
Sibling rivalry was never really a problem for me, but all that changed when my father stood me up for Thanksgiving. On the eve of Turkey Day, I developed a case of Obama envy.
You've heard of "outside children?" Well, President Barack Obama has an outside family. He has two dads: Barack Hussein Obama Sr. and a surrogate, William Radford Rice, the father he "stole" from me during his first run for the White House. Daddy Rice helped him get there. Like any good father, he always believed that Barack was "The One." He talked about him incessantly and told everyone he would become the first black president of the United States. Daddy had been saying this long before Barack's run for Congress, breakout speech at the Democratic National Convention in 2004 and radio rebuttal to one of President Bush's weekly radio spiels.
https://yanickricelamb.com/my-work/books/daddy-my-brother-barack-and-me/ 
Impact/Recognition
This book won the 2014 Independent Publisher Book Award and has been praised for shattering stereotypes about black men and black fathers. My chapter explored my bond with my father despite divorce and distance, against the backdrop of Barack Obama's first campaign for office. (On a personal level, writing this was cathartic; it's one of my favorite pieces.)
This publication meets criteria No. 10 set forth on page 10 in Appendix A of Recommendation 305-2015 as an Exemplary Creative/Professional Activity:
Criteria No. 10. Authorship of works such as articles, reviews, commentaries, multimedia, and/or other creative projects published or broadcast locally, nationally or internationally in newspapers, magazines, popular or industry-specific media (e.g., PR Tactics, JAE, Folio, AJR, CJR etc.) or on the Internet if they demonstrate high standards in the practice of the discipline.
BET on Black: African-American Women Celebrate Fatherhood in the Age of Barack Obama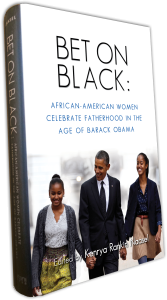 Inspired by President Barack Obama's commitment to encouraging and supporting responsible fathers — he created the President's Fatherhood and Mentoring Initiative to do just that — Bet on Black: African-American Women Celebrate Fatherhood in the Age of Barack Obama aims to wrestle back the much-maligned image of the Black dad and expose it as something that, while not perfect, is a human, loving presence in the lives of his children.
In turns insightful, clever and laugh-out-loud funny, 20 Black women writers share deeply personal stories that prove the stereotypes wrong. More than just love letters, their essays spin truths that examine the positive/complicated/ bittersweet/hilarious/aweinspiring relationships they share with the fathers in their lives. From the girl whose dad pulled double duty to fill the space left when her mother died, to the woman whose brother has successfully raised six children from behind bars, to the young mother who knew her grandfather truly loved her when he threatened to beat up her boyfriend, the stories in Bet on Black will shift the dialog about what it means to be a Black father in the United States.
Bet on Black won a 2014 Independent Publisher Book Award.