Publication No. 26
Creative Work/Special Project
TruthBeTold.news
Roles
Founder of fact-checking site TruthBeTold.news
Principal investigator on $35,000 Challenge Grant for Innovation in Journalism Education
Leader/member of teaching team on accountability journalism
Synopsis
TruthBeTold.news (formerly called HU Insight) is a non-profit, non-partisan website and digital network, run and edited from Howard University's Department of Media, Journalism and Film in the Cathy Hughes School of Communications. This fact-checking siteuses journalistic skills and crowdsourced information to play a leading role in examining claims about the black community in public debate, including myths, stereotypes and false statements. It also serves as a fun but, serious learning environment for students to teach them advanced reporting tools in a way that is engaging and allows them to use the social media skills they already possess.
APT Criteria
My management, research and development of TruthBeTold.news meets criteria No. 8 set forth on page 9 in Appendix A of Recommendation 305-2015 as an Exemplary Creative/Professional Activity and No. 10 on page 11 under High Creative/Professional Activity:
Criteria No. 8. Development or application of technology for communication enterprises or for the educational community, including new and existing websites; regularly maintained and nationally recognized web logs (blogs) and video logs (vlogs)

Criteria No. 10. Development and management of meritorious special projects of an academic or professional nature that exceed normal expectations of teaching and/or instruction and supervision of co-curricular programs, and that achieve recognition on local, regional, national or international level and/or other targeted area deemed of significance. The candidate must also prepare a detailed report and critique of the activity. 
Impact
Long before the fury over fake news and alternative facts, TruthBeTold.newsmade its debut as one of 11 winners of the 2015-16 Challenge Fund for Innovation in Journalism Education, administered by the Online News Association. It launched on Nov. 10, 2015, pegged to a Republican presidential debate that coincided with one of its primary fact-checks at the time, "Can Ben Carson Help GOP Attract Black Voters?" The launch immediately established the site as a fresh and relevant source of news and verification.
According to the American Press Institute, TruthBeTold.news might be the first and only collegiate fact-checking site. It is considered the only fact-checking sitethat focuses on African Americans. Professional partners include PolitiFact; the National Newspaper Publishers Association, which represents 200 black-owned weeklies; and the Trice Edney News Wire. We have also had inquiries about partnerships from news outlets ranging from The Undefeated at ESPN to the Associated Press.
Through TruthBeTold.news, Howard students delve into the finer points of fact-checking journalism, also known as accountability journalism. Specifically, they learn how to use advanced reporting tools and social media in engaging ways to examine issues that resonate with African Americans. While nearly all of the content originates with students, we've featured the work of two accomplished alumni: Jelani Cobb, a writer at theNew Yorker, and Shirley Carswell, former deputy managing editor of the Washington Post.
Fact-checking journalism has emerged as a critical part of American journalism over the last decade. The number of fact-check stories grew by 300 percent between 2008 and 2012, according to the American Press Institute. And PolitiFact, owned and operated by the Tampa Bay Times, was the first fact-checking site to win a Pulitzer Prize.
"However, few, if any, sites are devoted specifically to examining issues of importance to the African-American community," said Ron Nixon, a Washington correspondent for the New York Times, co-founder of the Ida B. Wells Society and former adjunct at Howard, who first proposed the idea for TruthBeTold.news.
Ranging from politics to pop culture, fact-checks on TruthBeTold.news include: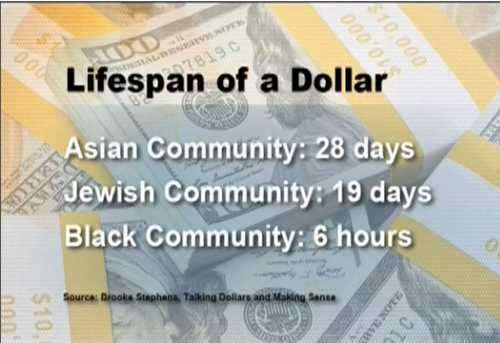 One of the most popular fact-checks on the site is "Does a Dollar Spent in the Black Community Really Stay There for Only Six Hours?"Many individuals, organizations, bloggers and news outlets have used the six-hour figure almost as conventional wisdom in attempts to show that blacks spend little with businesses in their neighborhoods compared toother racial and ethnic groups. The lifespan of a dollar is supposedly 28 days in the Asian community and 19 days in the Jewish community.
TruthBeTold.news examined the validity of these statistics as well as the methodology behind them.
Although the site focuses on an underserved audience of African Americans, people of all backgrounds enjoy the content. The site also has an open-source orientation and public service mission, making its content available to any news organization for re-publication.
The site has been well-received by students and especially readers who have called it "brilliant," "awesome" and "a great idea." One reader thanked us and said: "The next challenge will be tackling beliefs. Too many folks will hold tightly to their beliefs no matter the evidence to the contrary. But this, what you are doing, is what good journalism is about — fact and truth instead of knee-jerk reactions to falsehoods. Brava!"
We've attracted praise from journalists, too. "This is the kind of old school, basic reporting that journalism schools need to stress," said Jack White, former Time Magazine columnist. The New York Times' Best of the Web singled out TruthBeTold.news in The Upshot, the American Press Institutewrote about our launch and the Nieman Labat Harvard University featured a profile of the site.
Audio, TV/film and journalism majors work under the supervision of professionals as well as faculty members. Guest speakers have included Angie Drobnic Holan, editor of Politifact, and Tom Glaisyer,director of the Informed Participation Program at the Democracy Fund, one of the foundations supporting the Challenge Grant.
Milestones at a Glance
Established one-credit and three-credit fact-checking courses, featuring guest lecturers from PolitiFact and the American Press Institute
Incorporated fact-checking in other classes, including Multimedia Storytelling, NewsVision, News Lab and Public Affairs Reporting
Helped students understand the rigor and critical thinking involved in fact-checking, and raised the bar on what's acceptable for TruthBeTold.news versus other campus outlets
Honored with Mark of Excellence Award as best independent website, Society of Professional Journalists, Region 2, Richmond, Va.
Won Salute to Excellence Award from the National Association of Black Journalist (NABJ)for a collaboration by a film major and a broadcast journalism student on "Is D.C. Still the Chocolate City?"
Received a Paul Robeson Award for "#OscarsSoWhite, Because #HollywoodSoWhite — and Male," the lead story in a multimedia package that included a five-year analysis of academy membership by first and second-year students in Digital Media Literacy as well as a multi-class team of students reporting on Oscar night in real time via social media
Featured as the New York Times' Best of the Web in The Upshot, the American Press Instituteand the Nieman Labat Harvard University
Students and faculty participated in panels and roundtables sponsored by NABJ, the Democracy Fund, the Social Media Technology Conference and a Fact-Checking Summit at the National Press Club.
Goals
Expand political coverage, including fact-checks and fake news reports for the 2018 midterm elections
Offer more fact-checks in real time, Quick Hits trending on social media and video verification
Monetize the site so that it is sustainable
Train students at other campuses, especially HBCUs
Hire a student staff
Participate in Constitution Day and other observances of press freedom
Publish a textbook on fact-checking
Air podcasts on Howard's Sirius XM channels; partner with our campus and commercial stations' radio programs as well as WHUT, our PBS TV station
Develop a project related to student activism, a hot topic on campuses