AP Style Games
Professor Ingrid Sturgis and I have implemented AP Style Games in our editing classes. This activity has been effective in engaging students and helping them teach each other the finer points of Associated Press style.
The students work in pairs and choose a category from a box, such as military titles, numbers, geography, weather, business, sports or punctuation. Each pair can create or adapt a game in a week or two. The rest of the class has to play the game.
Students have created board games, competitions that require movement in the classroom or hallway, scavenger hunts and creative Q&As. They've also adapted Tic Tac Toe, Red Rover, Jeopardy, Hollywood Squares and Who Wants to Be a Millionaire?
Sturgis and I typically offer prizes or badges to the most creative games, but the students bring incentives to, ranging from candy to DSW shoe discounts. Afterwards, students evaluate the effectiveness of each game and what they learned on a short survey based on the Likert scale.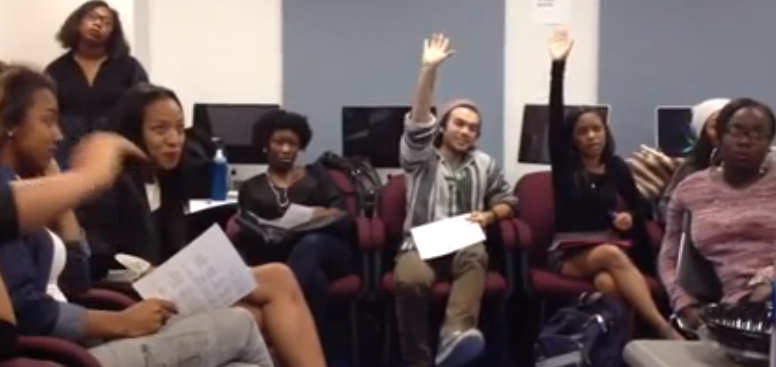 MILITARY PRECISION: Student answer questions about the armed forces during AP Style Games. Click to see video clip.
Using Mickey to Understand Mass Media
During the fall semester in 2012, I invited Annette Gibbs, public relations manager at Walt Disney World, to speak to my Writing for the Media class while she was in town on business. I met Annette when she was a reporter/anchor at Black Entertainment Television. She has also worked at WJLA TV and Maryland Public Television. She was effective in discussing news from the vantage point of a journalist versus that of a public relations professional.
Later that fall, I decided to use Disney as a case study to build on Annette's well-received visit. Disney was the perfect choice for a class filled with print/online journalism, broadcast journalism, public relations and advertising majors. Each student focused on a unit of the company related to his or her major and interests (sports, news, book publishing, film and entertainment). Their presentations were excellent, highlighting synergy within a corporation, the various divisions and the consolidation of media. This assignment helped them understand the differences and similarities in their majors.
I Now Pronounce You Reporter and Editor
For several years, I've paired my reporters with my editors. It requires extra work, lots of coordination and an abundance of patience, but the results are worth it. It prepares them for the future by:
helping each student understand how the other half operates
enhancing the reporter-editor relationship
fostering synergy and brainstorming
coordinating on breaking news as well as beat development
learning how to use a Content Management System (CMS) and
instilling professionalism along with a sense of responsibility to others.
My classes are primarily lab classes for 101 Magazine and 101Magazine.net. In each class, students submit their top three beat preferences and reasons why I should grant their request. After I decide on the beats, I pair a writer and editor for each beat. I place this information on a spreadsheet with contact information and distribute it to my classes. They must initiate and maintain contact throughout the semester.
Reporters must upload assignments on Blackboard for me and email them to their editors. The editors edit the articles, using Track Changes on Microsoft Word. They email their edits to the reporters and upload them on Blackboard for me. The reporters start working on the feedback from their editors, incorporating my top-edits into their revisions. One the story is ready to publish, they coordinate on uploading the work to WordPress along with the appropriate multimedia.
I've also used this method to coordinate with a design class on projects such as Brown vs. the Board of Education.

 Transforming Copy Editing to Interactive Editing
In addition to the coaching method, I've implemented other techniques to expand the copy editing class beyond grammar and AP style to develop more editorial responsibility. These changes are being incorporated into our new curriculum. Tapping into my editing background, I've helped students think more about long-ranging planning, assignments, design, business implications, ethics and social media. In groups, they plan a complete issue of 101 Magazine, including themes and cover designs. For their final, they must develop an idea, write an assignment letter, identify a writer on another campus and supervise the story from inception to publication. Students also complete lab hours at The Hilltop and other campus or professional media outlets for more hands-on experience. They also learn about editing for mobile platforms, the news ticker along the bottom of television screens and text accompanying videos, slide shows, graphics and other multimedia.
Developing and Revamping Courses
In addition to Interactive Editing, other courses that I've helped to develop include a magazine section of Reporting & Writing to meet the demand for and interest in magazine publishing. In addition to learning some of the basic instruction of the traditional Reporting & Writing course, we delve into narratives, service journalism, profiles, features and commentary. They must interview a professional magazine writer who covers their beat and prepare a presentation on the business and content of a specific magazine. We also conduct mock interviews, following instruction on "Incredible Interviews." Other popular sessions include "How I Got the Story" and "Sticky Ethics," a discussion of various case studies. To maximize use of the Career Development Center and participate in the annual communications conference, students are required to meet with Carol Dudley, our Career Development Director, to review a job packet that includes a cover letter to a specific person, resume and organizational profile. The students must also develop a digital portfolio and LinkedIn page.
For the News Lab class, I helped to transform it from cursory national reporting to more focused hyper-local coverage of Washington area communities, especially underserved neighborhoods such as those in Wards 7 and 8. The students learned to do talkbacks so that they can be interviewed about their work. They rotated as editor/producer of the news service and budget meeting with reporters in other classes. They also rotated as correspondents for the National Newspaper Publishers Association, which runs its news service out of our Converged Media Lab. I also used team teaching and guest lectures to expose students to other multimedia methods, including photojournalism, video, audio, Final Cut Pro, database reporting, use of mobile devices and social media.
I've also raised the bar in News Lab by implementing Capstone Portfolio Presentations in which students prepare a comprehensive professional/academic portfolio (including a self-assessment of their application of the nine ACEJMC standards) and discuss their career as a student journalist, their beats and final projects. Faculty members, alumni and professionals critique the student portfolios and presentations.
As a result of these efforts, the Society of Professional Journalists named the Howard University News Service as the Best Independent Online Publication nationally and regionally. SPJ also honored the news service as a national finalist for its food desert series, which also won first place regionally.
Deadline and Enterprise Reporting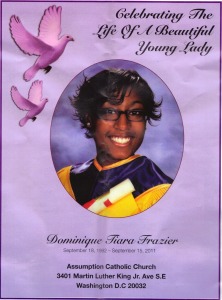 To maximize experiential learning, students are regularly cover breaking news as well as important regional, national and international topics. A partial list includes:
Mayoral, national and midterm elections
Troy Davis, Michael Ferguson and Trayvon Martin controversies
Discovery hostage situation
Bowie State stabbing case
Gentrification
Dorothy Height tribute
Aftermath of earthquakes in Haiti
Elections in Haiti
Series on food deserts
Congressional Black Caucus
Stem-Related Journalism
In my reporting classes, we often work on translating medical research. I explain best practices, what to look for and how to decipher journal studies to best educate the public. A few of my students covered research by Howard scientists and medical stories originating from our hospital and other university programs. For several years, I accompanied a student to a science journalism conference at Rutgers University, which included scholarship presentations, a New York media tour and meetings with scientists at Merck. I have also coached students on writing stories related to the International AIDS Conference, which was held in the United States for the first time in two decades. Together, we are working to help wipe out disparities one multimedia article at a time.
Similarly, I have connected students with a contact at the National Oceanic and Atmospheric Administration and a retired New York Times science reporter, which resulted in a fellowship for a student to attend and cover the "nation's largest general science meeting," the annual conference of the American Association for the Advancement of Science. The reporter also helped the student learn how to interpret scientific papers.
Students have also learned how to incorporate more technology in their reporting as well as how to use smartphones and other tools. We've helped them interact more with students and faculty in other sequences, computer science, engineering and fine arts, which also includes participating in hackathons. We hope to expand such collaborations through development of the department's Media Innovation Center.
Math for Journalists
The phrase makes students groan, but it's an essential skill that we now incorporate into departmental assessments as well as the new Fundamentals of Journalism class, which must be passed to advance through the program. I show students how to go behind the numbers through computational journalism, including database reporting, data visualization, "sense-making" and other uses of statistical research. We have explored the budgets of Advisory Neighborhood Commissions, campaign financing, the use of earmarks in government spending and other data. As part of this, we've visited Capitol Hill and the D.C. Auditor's Office. In the process, we've identified the need for a searchable database to help citizens become more engaged in the operations